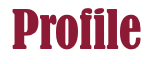 I strive to provide quality tax and bookkeeping resources with excellent customer service for my clients. That is why, after spending nine years with a large tax company, I decided to open my own business. At Red Dot, you can expect a personal approach to your tax situation, whether it is straightforward, and you just want the assurance of a professional tax preparer, or you have a great deal of complexity and need someone with the expertise to ensure your return is prepared with the greatest degree of accuracy. My knowledge of tax matters is both broad and deep. My clients have come to expect not only a top-notch job on the current year return, but useful and comprehensive tax planning strategies for the coming year and beyond. We can discuss ways to lower your current tax bill and review your withholdings and payments to be sure they are adequate to meet your tax obligations. We can also preplan for changes in your life that may impact your tax situation, such as retirement or an inheritance, so we can address them proactively, rather than being caught by surprise at the end of the year. 

I moved to the Northern Colorado area in 1963 and have called it home ever since. I grew up in Greeley and graduated from CU Boulder with a BA in Chemistry in 1983. I started teaching 8th and 9th grade mathematics in Greeley in 1983. I continued to teach Math until my retirement in 2013. Along the way, I earned my MA in Educational Leadership from UNC. Along with classroom teaching, I also became an administrator for District 6 Alternative programs and ran those programs for over 20 years. After I retired, I started looking for a part time job, and decided to become a tax preparer. I found the work to be both challenging and enjoyable. I love working with my clients an helping them with the necessary obligation of annual tax filing. After nine years with a large national company, I decided to branch out on my own, and Red Dot Taxes and Bookkeeping was born. I started my AAS degree the summer of 2020 and will complete it spring of 2022. The courses in general accounting, cost and managerial accounting, business taxation, Excel and QuickBooks have really bolstered my knowledge base, which in return has made me a stronger tax preparer and provides the knowledge base to comprehensively provide bookkeeping services. My goals for the future are to complete my Enrolled Agent and Certified Acceptance Agent certifications, as well as becoming a Notary Public. These are services that will only strengthen my ability to provide quality service to my clients for years to come.
As the owner of Red Dot Taxes and Bookkeeping, I am passionate about serving my clients. Taxes are very stressful for most people, and one of my main goals is to alleviate that stress as much as possible. No one wants to run afoul of the IRS. All returns prepared in my office are covered by Protection Plus, which offers unlimited representation at no charge, and reimbursement up to $2500. 
Bookkeeping is another area of stress for small business owners. It is difficult to find the time to adequately keep the records necessary for a business while trying to run a business. I can provide support for that as well. I am happy to take care of your books on your schedule – weekly, monthly or quarterly. I also offer payroll services and sales tax filings. I am open all year round to serve clients.

If you want quality tax and bookkeeping services, available year-round at a reasonable price, Red Dot is for you! Call, email or stop by for more information. I would be happy to hear from you!